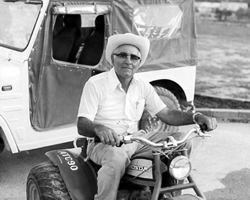 Hyde Shipping Corporation began in 1976 as a small family owned business located on the Miami River. Hyde Shipping leased a one (1) acre tract of property with 250' of dock space for docking vessels and built a 5,000 sq. ft. Butler building which served as warehouse and office (500 sq. Ft.) for its original 6 employees [4 of which are still employed today].
The first two years of operation was dedicated to break bulk dry and refrigerated cargo. In 1978 containerization began to change the ocean cargo industry and Hyde realized that their terminal would not accommodate their ever increasing presence in the market place.
In the early 1980's it was necessary to tear down the original warehouse, relocate to 2500 sq. ft. of adjacent office space, and acquire a 12,000 sq. ft. building for use as a warehouse facility. Hence, Mak Freight Inc. was formed as the inland terminal/warehouse facility. Office space was later increased to 5000 sq. ft. and warehouse space to 30,000 sq. ft., however, the need for a larger facility remained. With no room for expansion of the dock space, the stevedore & terminal operations were relocated to Port Everglades in 1995, thus ending Hyde Shipping's 'Miami River era'. Hyde now occupies 7.1 acres at Port Everglades. The increasing need for space and the desire to consolidate office and warehouse caused the employees of Hyde Shipping to once again pack their bags and move.
The proximity to the Miami River was no longer necessary, therefore, office and warehouse consolidated and moved to the Flagler Station Industrial Park in North West Miami, Medley, FL. This new location offers 46,000 sq. ft. of warehouse and 8,000 sq. ft. of office space for the 125 employees. Additionally, it also provides easy access to facilitate the 4 truck drivers (1 Employee & 3 Owner Operators) in transporting the nearly 100 containers which are loaded weekly.